China National Textile and Apparel Council (CNTAC), the voice of the textile industry in China, issued a survey report today for a close look at the production status quo, which starts up after Spring Festival as usual, but delayed getting it reignited due to the impact of coronavirus outbreak this year. CNTAC organized a series of online surveys to monitor the cardiogram of the production rhythm, and this new report covers the period from March 3 on the onset to April 1 at the finish line after the previous report that was given in February.
The situation in the latest week (March 25-April 1) is given as bellows:
On company fronts, the 193 member companies responded to the online survey, 1.3 percentage point higher than its previous week with 98.4% of them starting up their machines. There are 293,000 workers already at work in 190 companies, accounting for 94.6% of total employment in pre-crisis period, 3.2 percentage point more than that reported the week before.
On industrial cluster fronts, there were 28 important manufacturing clusters in 13 provinces responding to the survey. According to the questionnaire, there were 66,000 companies inside these clusters already at work, representing 86.4% of the number of companies in total textile and apparel manufacturing clusters. Out of which, there were 3954 above-designated-scale companies(Chinese statistics system considers a company with its annual income amounting to 20 million Yuan or more, as big scale company, any companies above this designated scale are taken into national statistical system for understanding economic performance in the country) reported to restart the production across the board, at 99.1% rate.
Production Start up Rate in Industrial Clusters under Survey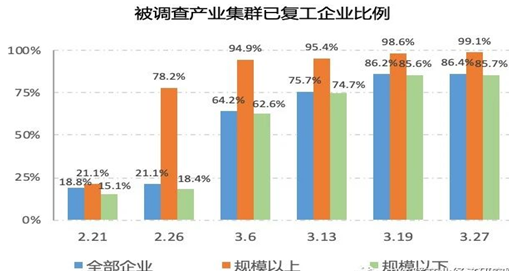 (Note: Blue color for all companies, orange for big companies, green for SMEs)
There are 62,000 SMEs in these 28 important manufacturing clusters already in operation with 1.01 million workers busy on streamline, taking up 71.2% of the total number of employees in these production hubs, 5.2 percentage point over that recorded in its foregoing week.
So, what do we know from the online survey? They are confronted with problems as it goes without saying. In the above-mentioned 190 companies that already restarted operations, only 33.7% out of these companies have their business orders at 80% of their normal business level while 23.2% of them ran into a poor business volume at the level below 50% of their normal business orders. So far as export business is concerned, the international orders that fall short of 50% or more have happened to 61.2% of all the companies in question, only 9% of all the companies have 80% of their normal business volume from their international clients.
The COVID-19 ballooned into global pandemic at an amazingly fast rate and the important markets for China's export shipments are all hit hard, and the United States is one of them, which resulted in a plummet in importing textiles and apparel from China as is seen from the import data sheet –Major Shippers Report provided by Textile and Apparel Office, Department of Commerce, U.S.A..
In January 2020, the United States import of Chinese textiles and apparels decreased by 31.68 percent with $2472.293 million as against $3619.914 million in January last year and apparel import dropped by 36.09%.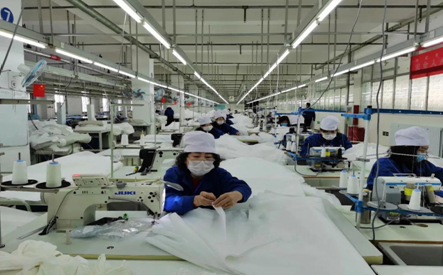 It is not a surprise to see a global slowdown in export business while the number of people infected with the virus is breaking through a million in no time, and it is most likely that it has already outnumbered one million cases at the time when this news is posted on line and it is spreading far and near to affect more than 200 countries, regions and sovereignties. There is no question striving to fight the coronavirus in a way that is properly guided by the government and practically executed by the companies, and the question is how to react to the export situation that goes pretty sure to get worse than that in the years already gone by?
ALL COMMENTS