Amid global pandemic outbreak, there comes a breaking news for breaking ground, a breakthrough investment in a big manmade fiber project for Polyester(PET) production with the capacity of 500,000 tons per year in Bayingol Mongolian Autonomous Prefecture of Xinjiang.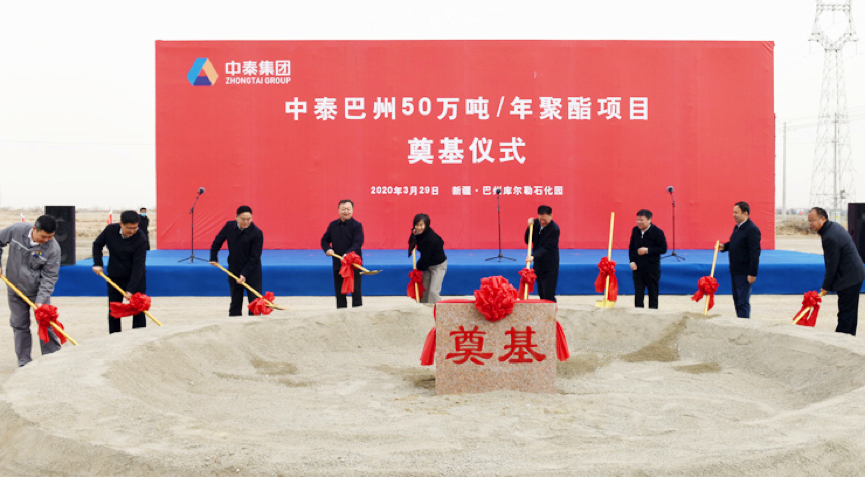 (Local leaders and investors are laying down the cornerstone for 500,000 tons/year PET project)
The ground-breaking ceremony took place on March 29, 2020 inside Korla Petroleum and Petrochemical Industrial Park in the Korla city under Bayingol Mongolian Autonomous Prefecture in Xinjiang Uygur Autonomous Region, and the project is of paramount significance in the new daybreak for hope in sharp contrast to a lot of business breakdowns strongly impacted by the global heartbreaking woes in the troubled times. Nonetheless, it means a lot to the raw material structure in local supply as Xinjiang is the cotton-richest area, with more than four-fifths of cotton production in the country as is released by National Bureau of Statistics report, which shows cotton output for 5.002 million tons in 2019 to represent 84.9% in China, amazingly dwarfing its manmade fiber resources there, which can be referred to as nothing at all if we do not take the very little amount of viscose fiber into account.
Mr. Wang Hongxin, Chairman of Xinjiang Zhongtai Group, said at the ceremony that Zhongtai Group invested heavily in Bayingol Monglian Autonomous Prefecture with aggregate 10 billion Yuan for caustic soda and its value-chain business in the past years and will invest another four new projects in 2020, and three of which are to be planted right here for 7.5 billion Yuan in total. As one of the four new investment schedules from the Zhongtai Group, Polyester (PET) project pioneered to break the ground, a great move to facilitate Xinjiang's strategy for largely promoting textile and garment development for providing 1 million jobs, an ambitious scheme initiated by Xinjiang government several years ago to take full advantage of its cotton resources to boost local economy and employment on this far-west land.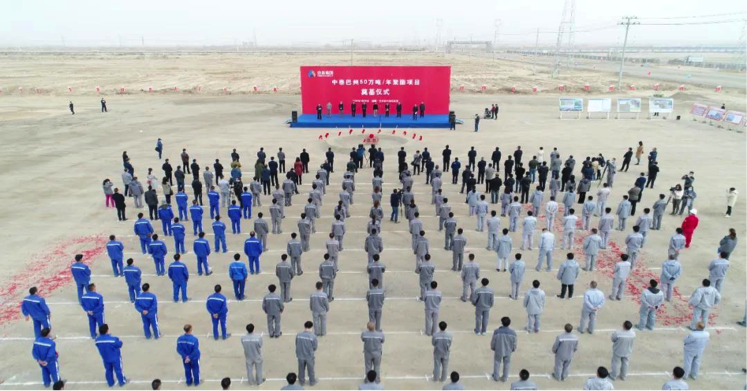 Mr. Lu Zhengping, Chairman of Zhongtai Petrochemical Company in Korla city, told reporters at the ceremony that this polyester project is the first PET project in terms of its size and capacity in Xinjiang, we all know that PET is made from purified terephthalate acid(PTA) and ethylene glycol (EG), and Zhongtai Group has its own PTA production for 1.2 million tons per year, and to line up with it, this new project will start
with its overall field construction in April and is expected to finish at the end of 2021, with approx. 3.4 billion Yuan in budget. PET project will have 250,000 tons of filament and 250,000 tons of staple. In an estimation of the social and economic effects, the PET project, when completed, will lead to a sale income for 3.76 billion Yuan, VAT contribution for 57 million Yuan every year and provide 600 direct jobs and boost the conjoint downstream sectors, like spinning, weaving, dyeing and printing, for an employment of over 50,000 people.
It is understood that the PET project is a pivot that connects petrochemical industry with textile and apparel industry and its filament and staple will reshape present composition of raw materials that previously relied predominantly on cotton, making it possible for cotton spinning upgrading to pluralize feedstuffs for more varieties of fabrics in cotton-cotton/chemical fiber blends and filament weaving diversity, a milestone for transforming textile industry into a refinery-petrochemical-textile integration not only in Korla city in Bayingol Mongolian Autonomous Prefecture, but also in Xinjiang as a whole